words by @alancholesterol
The demise of underground hip-hop is a well-worn topic, but more interesting is the story of the artists that survived it. Armand Hammer is made up of two MCs that have each built a catalog in the dark corners of rap, earning loyal followings while remaining in the shadows. The Philly-born Elucid's solo efforts can be traced to the Smash & Grab mixtape from 2007, though at that point he had been lending his voice to tracks for years, at least as far back as a DJ Kno (Cunninlynguists) track in 1999. Billy Woods, who has resided in DC, NYC, Africa and the West Indies, ascended as an associate of Cannibal Ox, eventually setting up the Backwoodz Studioz imprint. One of his verses from the 2005 SoundClash Volume 1 compilation calls out from memory:
"Answers? / You seen what they did to the Panthers. / And you see the pigses in Panzers. / Tiananmen Square ain't the place for gangsters."
2014 finds both rappers enjoying a renaissance in parallel. Woods, who never shows his face on camera, put out History Will Absolve me in 2012, his first solo LP in eight years, and a year later collaborated with the producer Blockhead to create Dour Candy. Both records received high volumes of crossover recognition from the indie-pop press. Elucid turned heads with the 2012 solo effort Bird Eat Snake / The Love Offering, an investigation of Brooklyn's gentrification. This year he followed up with producer A.M. Breaks in tow to form the duo Cult Favorite, dropping an LP that had Tiny Mixtapes jocking, "Sometimes it takes a demanding listen like For Madmen Only to expose your favorite flavors of the month for the non-threatening panderers they truly are."
Thus, Armand Hammer is a righteous pairing, whose fearless rhyming is perfectly complimented by their diverse taste in strange production (often featuring Elucid in the role of beatmaker). Their dense multi-syllabic rhyme schemes are unrelentingly incisive in their portrayal of social hierarchies, especially when it comes to the police, and their use of cultural references can be dizzying. For optimal listening, make sure you have a dictionary, an almanac, a newspaper, The Red Book and maybe a few Wikipedia tabs handy. Their first LP, the 17-track Race Music, came out at the end of 2013, and this summer they dropped the 9-track Furtive Movements. These two records are as delightful to the ear as they are challenging to the mind, a combination that has won over The Needle Drop, We Listen For You, 2DopeBoyz, Impose Magazine, and Passion of the Weiss. We had the rare privilege of putting a question to these virtuoso lyricists…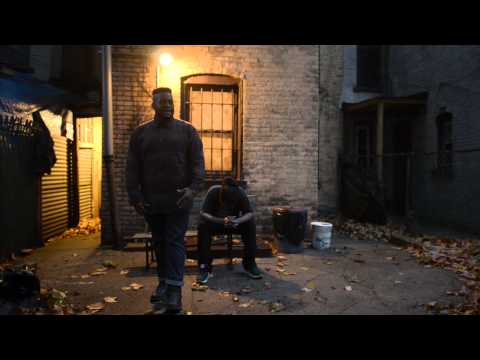 We're in the midst of the Ferguson uprising, which has just been inflamed by another shooting of a likely unarmed black teenager. Some in hip-hop, like Killer Mike, have posited that a solution to police brutality lies in having police forces made up of people from the respective communities they patrol. What do you think can quell such a chronic issue?
Elucid: Stopping short of proclaiming that the entire framework must be destroyed, having police officers who resemble the communities they police may be a positive step in the right direction. In the interest of officer accountability, I am curious to see how the implementation and effectiveness of police cruiser dash and officer body cameras will play out.
Billy Woods: There are certainly small things that can be done to mitigate conflicts between poor, black communities and law enforcement. Obviously, a more powerful civilian complaint review board, better hiring/firing practices, more cameras, etc. But ultimately, even without the ever pervasive element of race and the long troubled history of institutional racism in the police department, there is an adversarial aspect to policing poor communities that cannot be fully done away with in a society like ours. The combination of vast inequality and a materialistic, hyper-capitalist culture means that the poor are more likely to commit certain crimes, making their communities targets of law-enforcement, which given their relative helplessness is bound to lead to abuse and mutual distrust.
This is not a suggestion that we would be better off doing nothing, just an acknowledgement of what it's limits are without substantive changes to American society.
I had to look up whom the namesake of your band was (an actual person that the baking soda was named after), and his story including various entanglements with politicians on both sides of aisle. Better just to ask you guys directly: Why the name Armand Hammer, and how does it frame your work?
E: I had no idea who the real armand hammer was until we decided on the name. Initially i wanted our group name to sound like it could be a single real person's name and likeness. The Armand Hammer name itself can bring to mind strength, authority, socialism and crack cocaine.
BW: Well, you say it "Arm & Hammer," and I liked that name, the fact it's consists of two parts working together is another aspect of it.
"B.E.T." is an indictment of the white corporate hand's exploitation off hip-hop. In this day and age, with album sales pulling in all-time low revenues and corporate sponsorship playing an ever-increasing role in the industry, is there a line that you'd never cross in terms of "selling out"? Have you been put in a position where you've had to turn down a proposition to preserve your integrity?
BW: This is actually a couple of questions/statements so I will try and address them all. I am not 100% sure that that description encompasses B.E.T but I welcome your thoughts, obviously as an artist I am always interested in how people interpret what I do. Your interpretation is, in many ways, just as valid as my own. As to "selling out," I am not sure what you mean specifically, it would depend on the specifics. Would I perform at a showcase sponsored by some magazine or corporation I had a negative opinion of? Sure, I already have. Would I do a record for a label that I think puts out wack artists? Depends on if I get to do what I want to do or not. Would I start doing some shit I didn't believe in just to make a buck? Not in the field of rap music, no.
E: The opportunity to have my music advertising/marketing tool has never presented itself to me. I would entertain the possibility on a case by case basis though.
Wanted to ask the ol' influence question, in hopes that I could pinpoint each member's. Would it be wrong to say that Mobb Deep's ominous delivery and grandiose metaphors/similes have informed Elucid's style? Ghostface's descriptiveness and use of references for Billy?
E: Mobb Deep was big for me as a kid. But i was raised in a Black Pentecostal, fire and brimstone church obsessed with death. You want to talk about ominousness and grandiose metaphors? I learned it from reading old testament stories. I'm a fan of the mid-late 90's Queensbridge sound in general though. Nas, Capone-N-Noreaga, and especially Tragedy Khadafi.
W: Ghost was a big influence on me, for sure, although far from the only one. It was really through another, more personal influence that I even became a Ghostface fan and that was Vordul Mega of Cannibal Ox, a great friend who is the reason I ever started taking rap seriously. With Ghost, I think I appreciated his use of language and ability to be creative while remaining emotionally engaged with his work. His work on Ironman is less heralded than the over-the-top pinnacle of his style that you see on Supreme Clientele but that was the record Vordul put me onto that really showed me Ghost's genius. The ability to attack ideas from new angles with new language and a willingness to avoid the overt.
Thanks so much, Billy and Elucid! Armand Hammer is performing… *looks at phone* … TONIGHT! With Open Mike Eagle, Serengeti, Junk Science and a guest appearance by Hannibal Buress!