words by @alancholesterol
There's always the old cliché that art mixed with romance is a disaster in wait. The mythos of modern pop music is ensconced in the narrative of love disrupting creativity, whether it's the legendary entanglements of Fleetwood Mac, the recent demise of Sonic Youth, or decades of misogynistic Yoko-blaming. For the post-couple that makes up Montreal's Blue Hawaii, personal tension has been so efficiently refined into inspiration that old tropes need not apply. Their romantic ins and outs are rendered in their music, but not in a cheap, soap opera way. Instead, they satisfy the listener's voyeurism through thoughtful poetry and musical compositions that tap into universal language of infatuation.
The pair met at Lab Synthèse in Montreal, birthplace and spiritual genesis of the Arbutus Records camp that boasts breakouts like Grimes, Majical Cloudz, and Doldrums. Raphaelle Standell-Preston was already fronting BRAIDS, now an internationally beloved trio, and Alexander "Agor" Cowan was running the venue alongside his brother Sebastian, working the door that particular night. It was not until they journeyed to Central America together that they coalesced into a musical unit and recorded Blooming Summer, a record built out of sun-soaked melodies.
In 2012, they knowingly began making Untogether from a different place. No longer a couple in the technical sense of the word, they recorded much of the record while Cowan was living in Europe. Even when they were both in Canada, they elected for recording in different rooms at different times. The resulting record is noticeably different from its blissed-out predecessor. Its spacier and starker, with heavier beats and bleaker lyrics. Yet its beauty is undeniable, often provoking words from critics like "fluid" and sensuous."
Their chemistry is especially evident during their dynamic live shows, where they're able to tailor the set to tastes of their audience. Glasslands will be treated to one of these performances tomorrow, October 24th, for CMJ, and we were able to snag Cowan for a few questions.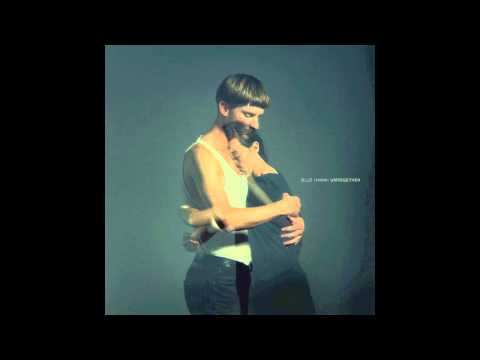 For your live shows, you guys embrace improvisation and do a lot on the fly, with Alex manipulating samples and synths as Raphaelle layers vocals. I imagine it can be challenging to sync up with each other during this process. Do you guys have a non-verbal system for giving each other cues?
We used to have a funny system of tapping and poking each other to drop in different samples or loops… now it's evolved into a super open kind of platform where we try out lots of new ideas and support each other the best we can. On our last Asian tour, we ended up hitting "record" in Ableton whenever we started this jam-out phase of the set, and reviewing it. Now we've discovered all kinds of vocal lines and synth ideas we can turn into new songs. Writing on the fly…
Raphaelle also fronts the beloved Braids. I wanted to ask how she differentiates or separates ideas for the two different projects, lyrically and musically.
With much difficulty I think. It's hard to prevent the two projects from crossing over thematically. Stylistically, maybe Blue Hawaii is from the more upbeat/dancey kind of camp, which informs the kind of lines and lyrics she writes for it.
Electronic music fans can be persnickety about specific sub-genres, and you have been very specific in expressing your love for techno. I'd like to know how your fascination with the genre developed, how it led to the pilgrimage to Europe (during the recording of Untogether), and if it inspired your recent move to London.
Yeah techno is great… though really I like all genres and sub-genres of music, and they don't have much to do with how often I seem to move around. I think that's related to something else, and lately I've really been wanting to find a home. In terms of music I've been really into early 80s disco, UK garage and ratchet style Hip-Hop.
I'm very curious about the process of writing lyrics collaboratively. From what I gather, it starts with Raphaelle improvising vocals, sending the best of what she records to you, who cuts it into patterns that fit into the beat, which are then reinterpreted by Raphaelle. Does this end up significantly altering the intent of the song? I find myself enthralled and perplexed by passages like "Sit through this wavering view" in "Reaction II."
I think most of Untogether is written about the two of us living together and breaking up at the same time, writing music apart. And I'm pretty sure that lyric references the odd sort of patience one has to have in that kind of scenario. I don't write the words… only in this one song we've done "Floral". So in that sense, most of Untogether is from Raphaelle's perspective.
Blue Hawaii is a project that began while you two were romantically involved. Does the fact that you remain major presences in each other's lives ever cause friction with new romantic prospects?
Nice question. Actually, no. We're like better than best friends… ultimate support for each other without having to be in a necessarily romantic relationship. It's pretty nice.
You guys are part of Montreal's Arbutus Records family, alongside characters like Grimes, Doldrums and Majical Cloudz, whose and reputation for smart, stellar pop music is growing rapidly with no end in sight. Other than the origin space, Lab Synthèse, what Montreal establishments are important to this community?
Hmm… Probably all those party spots that don't exist anymore like Silver Door and Torn Curtain etc… That and just all the cheap grocery stores and bakeries and things. Those are fun.
THANKS AGOR! Blue Hawaii plays live tomorrow (10/24) at Glasslands with Ballet School and Lydia Ainsworth. Get tickets here.